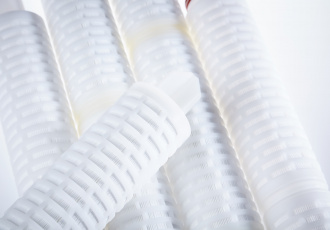 PREPOR PP
Microbiological depths filtration
Targeted reduction of yeast and bacteria for purification and stabilisation of liquids
Improving the filterability of products after tank storage or transport
Prefiltration to protect a subsequent membrane filtration
fine filtration to produce a clear end product
Long-term contact with hot water, steam and chemicals
PREPOR PP filter elements for liquid filtration are used especially for prefiltration and for the stabilisation of beverages such as mineral water, beer, fruit juice, wine and mixed drinks. Yeast, moulds and microparticles are reduced by the filter media to such an extent that the beverages can then be bottled with a low germ content or a downstream membrane filtration is optimally protected.
PREPOR PP filter elements are made entirely of polypropylene and are therefore extremely robust when sterilized with saturated steam and common disinfectants and regeneration agents. By using a multi-layer, pleated filter medium between polypropylene support fleeces, PREPOR PP filter elements have an optimal size ratio between filter surface and filter depth.
PREPOR PP filter elements are designed in such a way that they can be partially or completely reactivated by regular backwashing (against the flow direction).
Your Price