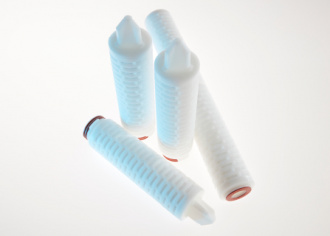 PROPOR BR
PROPOR BR filters are specifically designed to quickly and cost-effectively reduce the bioburden of pharmaceutical solutions.
PROPOR BR filters feature an integrated meltblown pre-filter layer to maximize the dirt holding capacity, while the polyethersulfone membrane guarantees a reduction in bioburden logarithm of more than Log-5, providing excellent microbial protection. This makes PROPOR BR filters ideal for reducing the microbial load of LVPs prior to terminal sterilization.
PROPOR BR filters are also ideal for pre-filtration and for reducing the biological load before sterilization of membrane filters. The robust design of PROPOR BR filters guarantees consistent performance over multiple batches.
Brevundimonas diminuta retention of LRV >5 for efficient bioburden reduction
Additional pre-filter layer ensures excellent throughput until blocking
Low binding for minimal product loss
MURUS and DEMICAPs can be delivered sterilized with gamma rays
Your Price