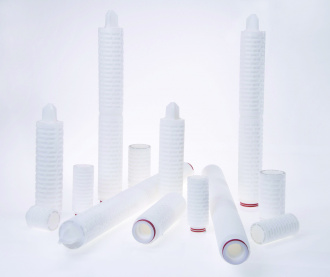 ASEPT X
Process reliability even under the most difficult conditions
The ASEPT-X range of sterile filters offers increased microbial safety and reduced costs for aseptic processing of sensitive food and beverage products.
The ASEPT-X sterile gas filters have been validated to withstand steam sterilization without optimal condensate management. This unique feature reduces hardware and automation requirements and reduces engineering costs per filter application.
Maintaining filter integrity under these harsh conditions
protects the sterile gas process, reduces the risk of contamination and significantly improves filter life over alternatives.
Features:
Fully validated bacterial, spore and bacteriophage retention
Resistant to >1bar dP in reverse direction at maximum SIP temperature
Highest resistance to condensate in the damping process
Integrity testable by aerosol impact test
Your Price