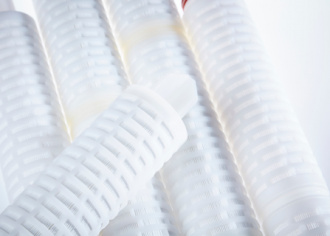 TETPOR PLUS - GAS FILTER MEMBRANE

TETPOR PLUS filters are manufactured entirely from fluoropolymers, which makes them extremely resistant to a wide range of aggressive chemicals.

TETPOR PLUS filter cartridges have been specially developed for the filtration of liquids and gases in the pharmaceutical, chemical and biopharmaceutical large scale industry, where particle separation, reduction of biological load and guaranteed sterility is required.

The increasing use of ozone for the treatment of WFI systems has revealed compatibility problems with vent filters based on standard polypropylene components.
The introduction of a fully validated TETPOR PLUS filter cartridge with 0.2 micron sterilisation level offers guaranteed long-term performance in these applications with the added benefit that filter integrity can be validated using integrity tests (WIT, 60:40, Valairdata).

The single layer high pore volume PTFE membrane provides an excellent combination of flow rate and retention capacity.
Your Price