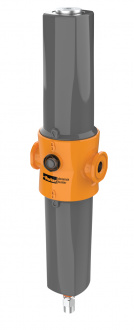 DOMNICK HUNTER COMPRESSED AIR FILTERS SERIES OIL-X AC
Flow management system

A special airflow management system ensures low pressure losses and thus energy savings over the entire service life.

Housing guarantee

Compact and lightweight housing with 10 year warranty for easy maintenance, requires minimal clearance for service

Corrosion protection

The filter housing is provided with Alocrom corrosion protection and a powder epoxy coating

International standards for air quality

Independently tested to ISO8573.2 for oil aerosol, ISO8573.4 for solid particles and ISO8573.5 for oil mist. This ensures that the air quality meets the requirements of all editions of ISO8573.1.

Multiple connections

Connections in various sizes from ½" to 1 ½" in versions with NPT or BSPP threads. Also available with float drain or manual drain valve for operating pressures up to 20 barg.
Your Price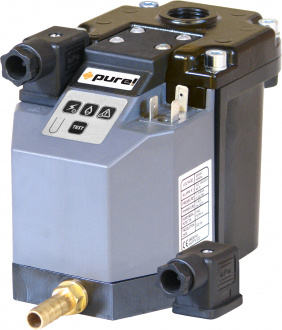 PURE! E-TRONIC STEAM TRAP ED6000
Usable for volume flows up to 100 m³h
One trap for all compressed air applications up to 16 bar
Robust and extremely reliable and durable
Priced service kits
Stainless steel sieve
Deliverable from stock
Electronic level controlled
Compressed air loss-free
Max. compressor capacity 100 m³/min
4 voltage options (230VAC/115VAC/24VAC/ 24VDC)
2x alarm contact NC and NO
2x inlet (top and side)
Protection class IP65
Corrosion resistant
Easy maintenance
Test function
Stainless steel sieve
Your Price