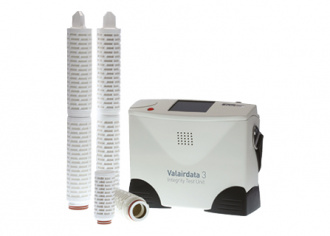 Valairdata

Validated test device for rapid integrity testing of sterile filter elements
for both membrane and depth filters.

The VALAIRDATA is a portable and very easy to use test instrument for testing air and gas sterile filters. It can be used to check the integrity of both membrane and depth filter elements safely and quickly. While a liquid-based test procedure for hydrophobic air and gas sterile filters leads to disproportionately long overall test times due to wetting, testing and drying, with the VALAIRDATA these filter elements can be tested within seconds (test time depends on element size). A previous wetting and the following drying is not necessary.

The Valairdata is fully validated for direct correlation to the bacteria impact test (FDA standard) and is therefore unique on the market.
Your Price