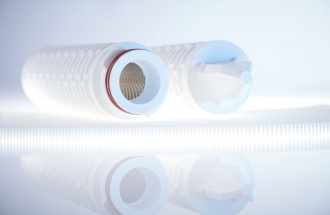 PEPLYN AIR
PEPLYN AIR filter elements are also particularly suitable for the supply air filtration of low pressure blowers and side channel blowers.
PEPLYN AIR provides low pressure losses and correspondingly long filter service lives.
The polypropylene filter medium is also water-repellent (hydrophobic), so that condensate or air humidity do not have a negative effect on the filter performance.
An inner support body made of robust stainless steel and an outer support body made of heat-stabilised polypropylene give PEPLYN AIR filter elements extremely high thermal and mechanical stability.
Features:
Absolute deposition rates from 1 - 25 µm in gases
Multi-stage filter medium for fractional particle separation
High filter surface
Reduction of the microbiological load
Steam sterilizable and CIP-capable
High chemical resistance due to the polypropylene construction
High particle holding capacity
The availability of different end caps also allows the use in existing housings
Cost effective filtration
Peplyn Air is fully validated and integrity-tested in accordance with the HACCP concept.
Your Price