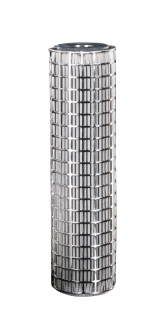 ZCHS - PLEATED STAINLESS STEEL STEAM FILTER ELEMENT
Steam filter elements of the ZCHS series are made of microporous sintered fibres with a fibre diameter of 1 to 40 microns.
Due to the extremely high porosity of the metal fibre fleece of up to 80% and the extremely high filter surface due to pleating of the filter medium, there is a large sum of pore cross-sections available for steam transfer compared to the material content. This fact guarantees an optimum ratio of filter fineness and filter performance.
Dirt, dust and rust particles are completely retained both on the filter surface and in the filter depth.
Steam filter elements of the ZCHS series offer:
An extremely high throughput capacity due to the high porosity of 80% and the star-shaped folding (pleating) of the filter medium
A high regenerability, chemically with acids and alkalis, mechanically with ultrasound or by backwashing
A construction free of adhesives and binders due to the pressing of the end caps
A high dirt holding capacity due to the additional depth filtration effect
A high dimensional stability at high pressure differences and extreme stress
Steam conditioning from complete particle removal to culinary steam quality (according to 3-A standard) at 1.0µ
Your Price