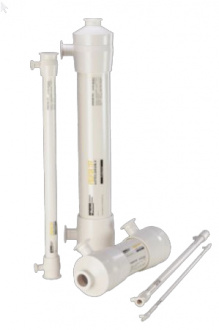 Proportions TFF
Liquid holofiber module / crossflow filter
The autoclavable PROPOR TFF hollow fiber filters provide maximum cross-flow performance with minimum preparation and installation time, while allowing the flexibility of autoclave sterilization.
Modified PES hollow fiber membrane technology with high flow, low contamination and low binding offers consistent and fully scalable performance in a wide range of applications.
PROPOR TFF autoclavable filters are supplied glycerine-free and ready to use without the need for extensive pre-rinsing.
The extremely robust, high performance, advanced proprietary membrane chemistry provides long module life with sustained high flow and high productivity over extended periods of use, such as perfusion applications.
Features and benefits:
Ready to use crossflow filtration
No pre-purge required
Up to 80-fold reduction of extractable substances compared to glycerine conditioned membranes
Modified PES diaphragm with high flow and low contamination for exceptional performance
No cleaning required
Hollow fibre filters closed in themselves
No hardware, no installation
100% integrity tested
Can be sterilized by autoclaving
Your Price