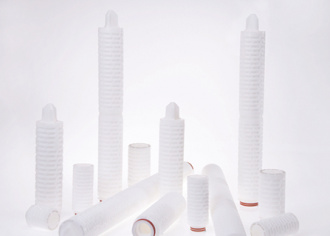 PEPLYN NE

PEPLYN NE liquid filters are designed for use in the microelectronics industry for the filtration of water, process chemicals, photographic chemicals, solvents and etching agents.

PEPLYN NE filters resist hydrolysis in aggressive solutions, which would otherwise lead to contamination of the process liquid.

The filter media have a graduated fibre diameter and density, resulting in increasingly fine retention over the depth of the medium. This stepped density depth mechanism, combined with the optimized pleated packing configuration and large surface area, provides high flow capacity and exceptional dirt holding capacity compared to competitive pleated cartridges and meltblown depth filters.
PEPLYN NE provides consistent retention and stability over a wide range of operating conditions.
Your Price