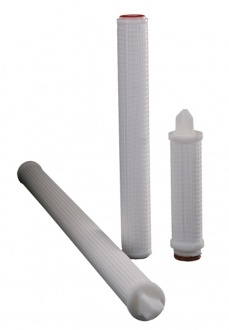 PROPLEAT PP - LIQUID DEPTH FILTER
Large filter surface and long service life compared to meltblown depth filters
High stability during flushing in and against the flow direction
Reliable supporting bodies in continuous lengths
Ideal for clear, trap and prefiltration
Excellent chemical resistance
Optional design especially for hot water and steam sterilization
Deposition rates from 1 µm - 70 µm
PROPLEAT PP filter elements are used for
purification and prefiltration
of products in almost all areas of the food industry, the production of non-alcoholic and alcoholic beverages, fine chemicals and the pharmaceutical industry.
The high
chemical resistance
of PROPLEAT PP filter elements ensures that they are suitable for the filtration of aggressive and viscous chemicals as well as for the filtration of water or aqueous solutions.
Due to the optimized pleated construction of the filter media and the processing in continuous lengths, PROPLEAT PP filter elements have an extremely
large filtration surface
.
Compared to foamed or wound products, these depth filters convince by outstanding
throuhputs
with a particle retention of 99%.
Your Price