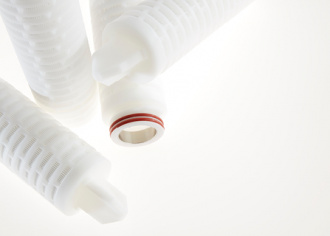 TETPOR AIR - GAS FILTER MEMBRANE

TETPOR AIR sterilizing filters offer exceptional filtration performance and at the same time the highest level of biosafety throughout the process industry.

TETPOR AIR filter cartridges are operated at ambient temperature and offer a cost-effective filtration solution. A unique pre-filter layer made of polypropylene extends the lifetime in highly contaminated environments.
TETPOR AIR filter cartridges also use a proven, inherently hydrophobic, expanded PTFE membrane that has been validated as a liquid sterilization level according to ASTM F838-05. This ensures the removal of all airborne bacteria, viruses and bacteriophages.

It is fully validated and integrity tested in accordance with the HACCP concept.

Your Price