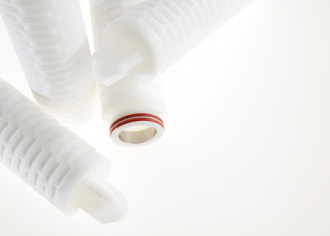 HIGH FLOW TETPOR H.T.
Gas filter membrane for high temperatures
HIGH FLOW TETPOR H.T. gas sterilization filters offer unsurpassed performance in process industry applications where continuous operation up to 100 °C (212 °F) is required.
Applications include specific biological fermentations that use high supply air temperatures and heated vent filters on storage tanks where the contents are at elevated temperatures >80 °C (176 °F), such as WFI tanks.
HIGH FLOW TETPOR H.T. cartridges use a proven, inherently hydrophobic expanded PTFE membrane that has been validated as a degree of sterilization in liquid according to ASTM F838-05. This ensures the removal of all airborne bacteria, viruses and bacteriophages. Polyaramide membrane support layers facilitate continuous operation at temperatures up to 100°C (212°F).
Features and benefits:
Long service life even at elevated temperatures 100 °C (212 °F)
Protected biosafety with absolute nominal filtration
Internal core made of stainless steel
Steam sterilizable up to 142 °C (287 °F)
Exceptionally high flow rates with low pressure drops
Integrity testable according to the requirements of the HACCP concept
Your Price