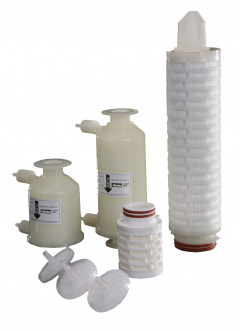 PROPOR HC - LIQUID FILTER MEMBRANE
PROPOR HC sterilizing filters have been specially developed for the effective and economical processing of solutions that are difficult to filter.
The optimized PROPOR HC PES membrane configuration features a highly asymmetrical membrane pre-filter layer, which significantly increases the throughput and prevents the problems associated with premature filter blockage in complex solutions.
PROPOR HC filters have a high capacity and are fast flowing. The PES membrane is inherently low-binding, minimizing product loss due to protein or preservative adsorption.
The filters have low extractable values and broad chemical compatibility.
Features and benefits:
The optimized membrane configuration allows up to ten times higher throughput compared to single-layer membrane products
Contains a fully validated and integrity-testable 0.2 micron membrane
Low binding for minimal product loss
It is fully validated and integrity-testable with regard to the HACCP concept.
Your Price