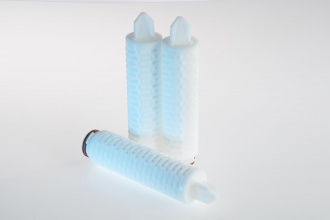 HIGHFLOW BIO-X

Depth filter series

The requirements for the sterilization of compressed air and other process gases are becoming increasingly stringent. The safe and absolute retention of all microorganisms is required, with the highest possible throughput rates and long filter service lives.

The solution is the HIGH FLOW BIO-X filter series, specially developed for these requirements.

With an absolute retention rate of 0.01 micron, all microorganisms are safely and irreversibly retained.

The filter medium, a pleated borosilicate microfibre, exceeds conventional depth and membrane filters in throughput many times over.
Existing deep-bed or membrane filter systems can be reduced by approx. 30 - 50% in size by using HIGH FLOW BIO-X elements.

To protect the borosilicate microfibre from condensate, it has been additionally refined with PTFE in a patented process. The filter medium can therefore no longer be wetted by water.

Through depth filtration, in combination with a large filtration surface and a cavity volume of 95%, HIGH FLOWBIO-X filter elements have a high capacity for absorbing particles.
They are therefore ideal in applications with poor pre-filtration, as sterile filters behind low-pressure blowers or for pressureless tank ventilation.
By using heat stabilized polypropylene outer support bodies and end caps as well as a stainless steel inner support body, HIGH FLOW BIO-X filter elements are thermally and mechanically extremely stable.

The Highflow Bio-X is fully validated and with regard to the HACCP concept integrity testable.
Your Price