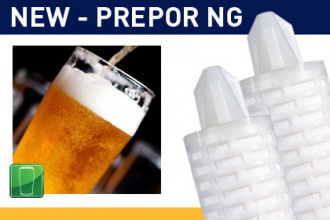 PREPOR NG
The new PREPOR NG filter series has been specially developed to remove yeast and particles such as filter aids and turbidity.
The excellent retention capacity ensures that the beverage enters the tanks in a uniform quality and provides improved membrane filter protection during cold stabilization.
The robust components are specially designed for regeneration with lyes and in the backwash process.
Thus they make the filtration stage a reliable and cost-efficient solution for beverage stabilization.
Advantages:
Fully validated removal of yeast and reduction of bacteria
Completely optimized graduated density thanks to unique ODC technology
polypropylene construction with high mechanical strength
Chemical resistance enables chemical CIP and backwash
Better control of the quality of the closure stabilisation
Increased filter capacity
Extended service life in combination with regular regeneration in the CIP process
Your Price