STARLETTE PLUS-E (SPS) With Refrigerant R513A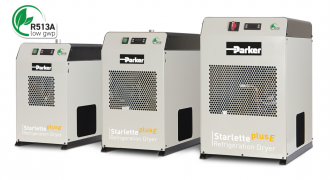 HIROSS REFRIGERATION DRYER STARLETTE PLUS-E (SPS) WITH COOLANT R513A
Parker Starlette Plus-E refrigeration dryers are developed around a state-of-theart aluminium heat exchanger (E-Pack).
The E-Pack heat exchanger has a large air/air heat exchanger to pre-cool the incoming compressed air and reduce energy consumption.
The highly efficient E-Pack design results in a refrigerant circuit with lower absorbed power and uses a smaller volume of refrigerant than other comparable dryers.
The E-Pack design utilises low pressure drop, cross flow heat exchangers to reduce operational costs
The E-pack heat exchanger includes a high efficiency stainless steel demister separator for liquid removal.
In compliance with the F-Gas regulation, Low GWP environmentally friendly refrigerant R513A on all units. A protection for the environment and an insurance for the investment.
All models are equipped as standard with a digital controller that provides an indication of compressed air temperature, volt free alarm contact, service reminder and integral timed drain control.
StarlettePlus-E models are dual frequency (50Hz or 60Hz).
Optional Energy Saving model versions (models SPS026 - SPS100) enables the dryer to save additional energy at partial load by cycling the refrigerant compressor while cooling the inlet air using the cold reserve stored in the E-Pack mass.
Your Price