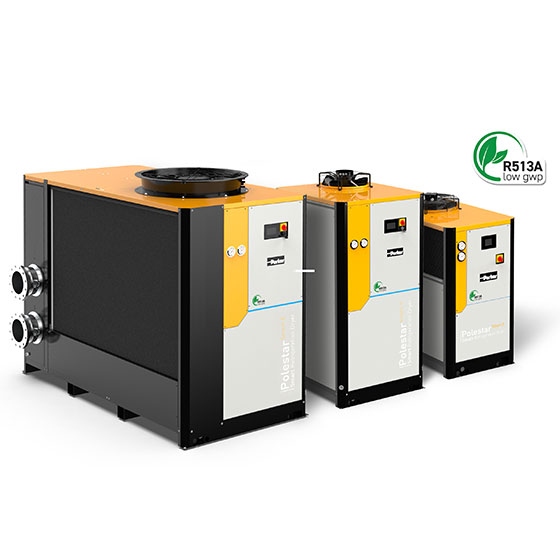 PSE refrigeration dryer series with environmentally friendly refrigerant 513A
Environmentally friendly refrigeration dryers using low *GWP (*Global Warming Potential / Treihaus-potential) refrigerant in accordance with the requirements of the F-Gas Regulation (EU) No. 517/2014 are the best choice to protect your investment, the climate and the environment. R513A refrigerant with low GWP (*Global Warming Potential) in all units, protects the environment and prevents possible violations against the use of refrigerants with higher global warming potential.
The highly efficient SmartPack design, the electronically controlled hot gas bypass valve and the innovative microchannel verflüssiger result in a refrigerant circuit with lower power consumption and approx. 40% less refrigerant charge compared to conventional refrigeration dryer solutions.
The energy-saving function enables the dryers to save energy at partial load by switching the refrigerant compressor to idle while the incoming compressed air continues to be cooled by the stored cold reserves of the aluminium mass of the SmartPack heat exchanger.
All models are designed for a dual-frequency power supply (50/60Hz). Installation flexibility is ensured by the side selection of the unit's inlet and outlet air lines on models with multiple coolers from PSE750.
more information