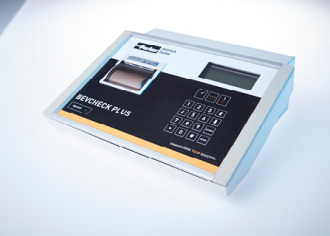 BEVCHECK & BEVCHECK PLUS
Portable integrity test equipment for the verification of membrane filters
Compact, portable and easy to use
Pressure holding test
Memory for 200 test results
PC control and data management
Battery and mains operation possible
When filtering with membrane filter elements, final filter is of particular importance.
It forms the final barrier between the unclean and clean product side (keyword HACCP)
Since final filter is rarely blocked by particulate retention when prefiltration is effective, and preventive replacement after a certain number of sterilisation and/or CIP cycles is not recommended, membrane filter should be subjected to an integrity test on a regular basis. BEVCHECK and BEVCHECK PLUS are portable integrity testers that allow the user to quickly and safely check membrane filter elements in the production housing for integrity.
Your Price