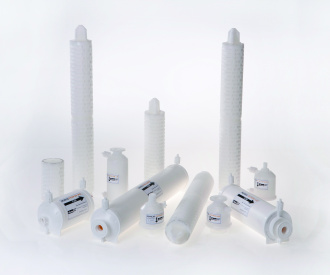 PROPOR SG - LIQUID FILTER MEMBRANE

PROPOR SG sterilization filters have a microbial retentive polyethersulfone membrane for fast, reliable and cost-effective sterile filtration of pharmaceutical liquids.

The asymmetric pore structure and the high pore volume of the PROPOR SG membrane allow high flow rates and exceptionally high flow rates compared to competing PES and alternative membranes.

The low protein and preservative binding minimizes product loss by adsorption.

PROPOR SG filters are optimized for pharmaceutical processing. They have low extractable values and a broad chemical compatibility over the entire pH range including organic solvents.

They are fully validated and integrity-tested in accordance with the HACCP concept.
Your Price