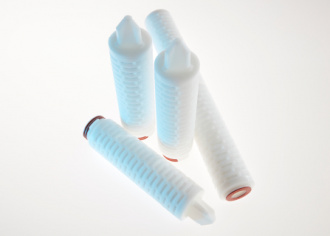 HIGH FLOW TETPOR II - GAS FILTER MEMBRANE
Membrane gas filter
The filter medium of the HIGH FLOW TETPOR II filter elements is a completely water-repellent, star-shaped pleated PTFE membrane of the latest generation.
On the upstream and downstream side it is additionally protected by polypropylene fleece. The outer support body and end caps are made of a special, heat-stabilized polypropylene. Inner support bodies made of stainless steel ensure exceptional thermal and mechanical resilience.
A high effective filter area and an enlarged internal element diameter ensure excellent flow rates in compressed air/gas systems as well as in unpressurized applications such as tank ventilation and exhaust systems.
HIGHFLOW TETPOR II filter elements can be sterilized up to 225 times with saturated steam. As a standard element it is applicable up to an operating temperature of 60°C and as H.T.(High Temperature) element even up to 100°C.
Features:
PTFE diaphragm of the latest generation
Highly water repellent, for applications with residual moisture (condensate, tank cleaning)
Integrated prefilter layer
Validated for the separation of bacteria and viruses
Excellent flow rates with low pressure drop
Steam sterilizable up to 225 times
Inside support body made of stainless steel
Integrity testable
Your Price