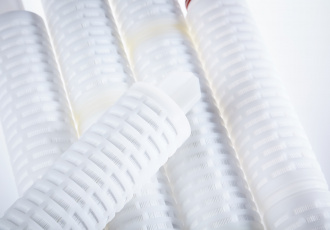 PEPLYN HA
Liquid purification in water and beverage applications
Ideal for filtration applications where filter life can be extended by continuous backflushing
Particle filtration according to diatomaceous earth, PVPP or gravel filtration for safe separation
Clearance of CIP solutions used for regeneration or disinfection of systems or membrane filtration
Absolute deposition rates from 1.4 µm - 100 µm
Steam sterilizable and backwashable
PEPLYN HA filter elements for liquid filtration are used especially for
purification and prefiltration
of products in almost all areas of the food industry, fine chemicals and many other critical industrial sectors.
Due to the complete construction of the filter elements made of polypropylene, the PEPLYN HA series is extremely
resistant to CIP solutions
and aggressive chemicals. In contrast to filter elements, e.g. made of glass fibre or cotton, hydrolysis of the filter material does not occur even in critical applications.
The filter elements of the PEPLYN HA series have an optimized filtration surface, especially for good reactivation by
backwashing
with water, warm disinfectants or regeneration agents. Smaller particles are retained in the entire depth of the multi-graded filter medium. This ensures effective particle removal under a wide range of operating conditions.
Your Price