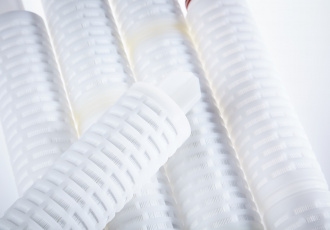 BEVPOR PS
Microbiological stabilisation and sterilisation
Validated microbiological separation rate from 0.1 to 1.2 micron
Easily wettable and easily tested for integrity
Inert filter medium without adsorption of protein, colour and aroma substances
Fractional separation efficiency due to the asymmetrical membrane structure
Regenerable, CIP-capable and steam sterilizable
BEVPOR PH additionally with integrated prefilter
BEVPOR filter elements are used as terminal filter for stabilization, sterilization and reduction of microbiological contamination in liquids.
The filter medium consists of a naturally hydrophilic polyethersulfone (PES) membrane. It is particularly suitable for the filtration of water, aqueous solutions and chemicals in the complete pH-range.
Compared to conventional filter membranes made of nylon, PVDF, poysulfone (PS) or cellulose, BEVPOR filter elements are characterized by
higher throughput
capacity, longer service life and higher mechanical and thermal stability.
Due to the
high chemical compatibility
with acids, alkalis, oxidizing agents and other organic chemicals, BEVPOR filter elements can be reactivated or sterilized without any problems even with aggressive and/or oxidizing chemicals (e.g. chlorine dioxide).
When filtering clear fruit juices, beer, soft drinks, wine or protein solutions, the PES membrane shows only very
low adsorption
of dyes and protective colloids. A change in taste or colour of the product by the filter therefore does not take place.
The BEVPOR filter series was developed especially for critical applications that require
long filter life
. By using exclusively hydrophilic construction materials, BEVPOR filter elements are very easy to wet.
The Bevpor PS is fully validated and integrity testable with regard to the HACCP concept.
Your Price