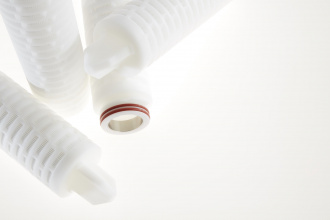 BEVPOR PH

Membrane filter with prefilter layer

BEVPOR PH is an advanced membrane filter cartridge developed for the beverage industry.
BEVPOR PH is specifically designed as a beverage grade filter element and uses an advanced polyethersulfone membrane and an integrated prefilter layer to achieve high flow rates, long life and improved throughput. The combination of the prefilter and the asymmetric pore structure of the membrane provides graduated filtration through the depth of the medium, resulting in an increased capacity to absorb contaminants. The components have been selected to withstand repeated chemical cleaning and steam sterilization.
All this with low adsorption of protein, colour and flavour components.

The Bevpor PH is fully validated and integrity-testable with regard to the HACCP concept.
Your Price