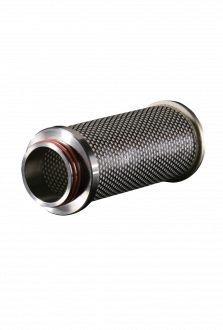 BIO-X II
Air sterile filter element, stainless steel
A borosilicate microfibre medium is used for the BIO-X II air sterilisation filter cartridges.
This medium has proven to be particularly effective in removing particles, in the submicron range down to 0.01 micron, thus ensuring the removal of all microorganisms, including bacteria and viruses.
The medium is sandwiched between polyaramide carrier materials to provide additional strength and prevent migration of the medium. It is held between stainless steel support cylinders and finally encapsulated in stainless steel end caps. The result is a filter cartridge with the exceptional strength and efficiency required for absolute safety in most application tests.
The BIO-X II filter cartridges are particularly suitable for the increasing number of high temperature applications. They also meet the sterile compressed air and gas requirements of the dairy, brewery and food industries.
Features:
Robust component made of stainless steel
Full validation by aerosol challenge
100% integrity verifiable by VALAIRDATA 3 Aerosol Challenge
High operating temperatures up to 200°C (392°F)
Your Price