All products from hiross at a glance!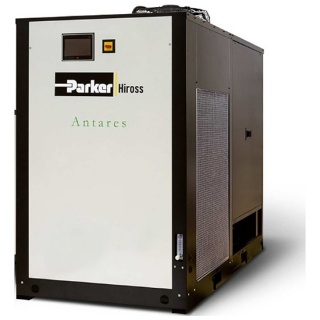 Adsorptionstrockner Warmregeneration
Hersteller: Hiross
Tandem-Dryer (ATT)
High performance compressed air drying system with revolutionary tandem technology
Flow rate 2.5 m³/min. up to 34 m³/min. (Larger volume flows on request)
Lower operating costs compared to conventional cold and warm regenerating adsorption dryers (lower purge air requirement and lower energy consumption of the heater).
Reduced maintenance costs due to lower desiccant filling with increased service life.
Constant dew point performance - no peaks above the setpoint.
"Dew point control function" for seasonal operation (optional bypass line).
Additional energy savings at partial load - (dew point dependent change).
Compact overall dimensions - small footprint - space savings.
Technology for compressed air and nitrogen can be used
Dew point adjustable between -70°C and +3°C
Reduced maintenance costs due to lower desiccant filling with increased service life
---

Wasserabscheider
Hersteller: Hiross
Hiross STH & SFH Water separator
Cyclone water separator
Flow rate 54 m³ / h to 4020 m³ / h
Connection 3/8 "to DN 150
Horizontal or vertical arrangement
Also available in stainless steel
For high or low flow rates
The acceptance according to PED (97/23 / EC) is offered by default for all models
Other international approvals are available on request.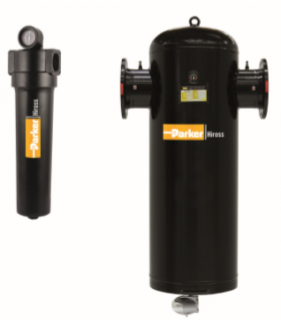 Druckluftfilter
Hersteller: Hiross
Hiross Hyperfilter
Product Features:
• Protects tools and downstream equipment
• Increases efficiency, reduces downtimes
• Significantly reduces maintenance costs
• Full range of models and filtration grades for all industrial applications
• Guaranteed performance levels
• The new look housing features a redesigned inside to reduce pressure drops even further, saving energy


To maintain the air quality standards, lter elements must be replaced at least every 12 months with
genuine Parker Hiross parts. Annual lter element changes are therefore essential and ensure:
• Optimal performance is maintained
• Air quality continues to meet international standards
• Low operational costs
• Continued protection of downstream equipments & processes
Failure to perform the scheduled replacement can lead to increasing system pressure Drops.

---