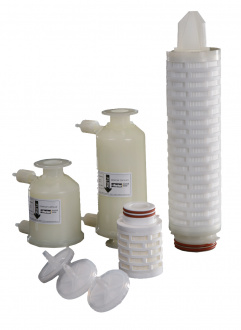 PROPOR LR - LIQUID FILTER MEMBRANE
PROPOR LR filters are specially designed for high flow rates and effective removal of Ralstonia pickettii and other diminutive organisms.
A number of studies have concluded that not all micro-organisms are removed under all conditions by membranes with a thickness of 0.2 micron. PROPOR LR filters use a 0.1 micron membrane that can remove diminutive organisms while maintaining the flow rates typical of a 0.2 micron filtration system.
Ralstonia pickettii is an organism that often penetrates a 0.2 micron nominal size membrane and is a common contaminant in purified water systems.
PROPOR LR filters have been directly validated against the removal of Ralstonia pickettii.
Features and benefits:
Completely correlated with Ralstonia pickettii and checkable for integrity
Increases retention efficiency while maintaining the existing 0.2 micron system size
Up to 2.5 times higher flow rate than 0.1 micron filters compared to similar products
MURUS and DEMICAPs can be delivered sterilized with gamma radiation
High flow rates
It is fully validated and integrity-testable with regard to the HACCP concept.
Your Price