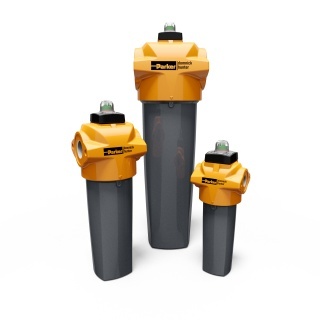 news about pure!
new products by pure!
New Parker domnick hunter series
domnick hunter OIL-X
A new series of compressed air filters sets new standards for efficiency and offers significant advantages for the users. OIL-X is available in four different versions: water separation, coalescence filtration, dry particle filtration and oil vapour separation.
Benefits domnick hunter filter series OIL-X
Validated performance you can rely on
Based on Parker's worldwide expertise in filtration technology, the OIL-X series was developed to ensure consistent, outstanding air quality. Oil-X offers a 12-month air quality guarantee and has also been validated by independent organisations in accordance with ISO 8573-1 (international standard for compressed air quality).
Lowest differential pressure on the market by combining unique filter elements with a specially designed flow management system, the OIL-X series not only delivers air quality to ISO 8573-1, but also the lowest differential pressure in the industry for maximum efficiency and productivity.
Longer equipment life, reduced maintenance, improved energy efficiency and proven reliability as well as minimal downtime keep total cost of ownership extremely low and also significantly reduce the operating costs for compressed air.
The Parker domnick hunter OIL-X filters have been developed as an integral part of our modern compressed air treatment systems but can also be used as drop-in replacements for the well-known OIL-X-Plus series and are fully backwards compatible with numerous drying systems. They are also approved for many different markets and applications.
The filter housing is designed for easy maintenance and easy replacement of parts and comes with a 10 year warranty. This reduces downtime and maintenance costs to a minimum and maximizes safety. A variety of connection sizes and filter connections for additional flexibility and time savings. Finished with Alocrom corrosion protection and a stable dry powder epoxy coating for a high-quality appearance which conveys robustness.